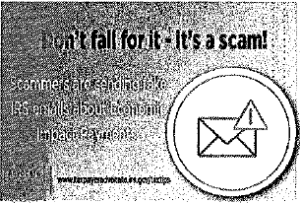 The Federal Trade Commission warns the public about a fake IRS email scam that keeps popping Into people's inboxes. It says that you can get a third Economic Impact Payment (EIP) if you click a link. Don't click It! The link is a trick. If you click It, a scammer might steal your money and your personal information to commit Identity theft.
Need more information about the third EIP?
Your best bet is to visit the IRS's third Economic Impact Payment webpage directly for trustworthy Information on EIP payments, including frequently asked questions and answers. You can also visit the TAS Recovery Rebate Credit and 2021 Economic Impact Payments (EIP3) page too.
Need more information about scams and ID theft?
The IRS also has many resources that include scam and phishing alerts, information on how to report a scam, and a suite of information titled Taxpayer Guide to Identity Theft, in case you need them.